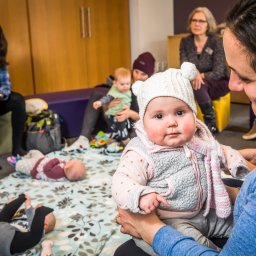 Parent Infant Drop-In
Parent-Infant Drop-In provides an opportunity to develop a supportive social network with other parents of young babies. Guest speakers will present parenting information on a variety of topics. This program is for parents with babies aged 0 to 12 months!
June Speakers:
June 7: Dana Elliott, women's health and pelvic floor physical therapist – Healing your pelvic floor for return to sport, sex, and day-to-day life
June 14: Randi Greer, VCH Public Health Nurse – Sun & Sunscreen Safety
June 21: Yvonne Smith, VCH Dental Hygienist  – How to care for your baby's teeth
June 28: Micaela Giuffre, Certified Infant and Child Sleep Consultant – Sleep Q&A
During July & August, this program provides social time for new parents! Instead of hosting weekly speakers, we provide a comfortable space for parents and babies to meet and socialize.
Email publicservices@whistlerlibrary.ca or call 604-935-8435 to sign up. Registration is ongoing for this program, so you can contact us at any time. 
This program is sponsored by Whistler Community Services Society, Vancouver Coastal Health, and Whistler Public Library.