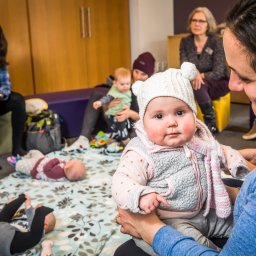 Parent Infant Drop-In
Parent-Infant Drop-In provides an opportunity to develop a supportive social network with other parents of young babies. Guest speakers will present parenting information on a variety of topics. This program is for parents with babies aged 0 to 12 months!
September topics & speakers:
September 26: Caprii Doucet, Public Health Nurse – More Sleep for Baby and Me!
October topics & speakers:
October 3: Baby Songs & Rhymes with Adrienne
October 10: Literacy Tips – Every Child Ready to Read
October 17: Alison Westwood, VCH Dietician – Introducing food & health eating habits with your baby
October 24: Evelyn De Montreuil & Randi Greer, VCH Public Health Nurses – Baby Signing
October 31: Not Too Spooky Baby Songs and Rhymes (costumes encouraged!)
This program is sponsored by Whistler Community Services Society, Vancouver Coastal Health, and Whistler Public Library.