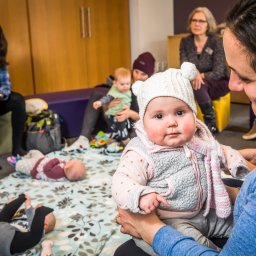 Parent Infant Drop-In
Parent-Infant Drop-In provides an opportunity to develop a supportive social network with other parents of young babies. Guest speakers will present parenting information on a variety of topics. This program is for parents with babies aged 0 to 12 months!
June speakers:
June 6: Grace Chadsey, SSCS Child Care Resource and Referral Program Consultant – Childcare Services, Daycare in BC, Affordable Childcare Benefit
June 20: Randi Greer & Evelyn De Montreuil, VCH Public Health Nurses
June 27: Baby Song & Rhyme with Adrienne
No Parent Infant Drop-In on June 13!
This program is sponsored by Whistler Community Services Society, Vancouver Coastal Health, and Whistler Public Library.