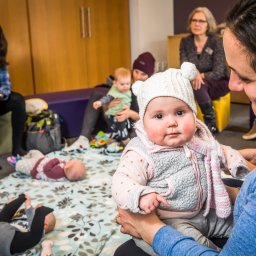 Parent Infant Drop-In
Parent-Infant Drop-In provides an opportunity to develop a supportive social network with other parents of young babies. Guest speakers will present parenting information on a variety of topics. This program is for parents with babies aged 0 to 12 months!
Starting on March 1, this program will be offered in-person and virtually. Email publicservices@whistlerlibrary.ca or call 604-935-8435 to sign up! Please indicate whether you want to join us in-person or on Zoom.
Click here to join the Zoom meeting.
May speakers:
May 31: Leann Kleckner, La Leche League – Breastfeeding Support
June Speakers:
June 7: Dana Elliott, women's health and pelvic floor physical therapist – Healing your pelvic floor for return to sport, sex, and day-to-day life
June 14: Randi Greer, VCH Public Health Nurse – Sun & Sunscreen Safety
June 21: Yvonne Smith, VCH Dental Hygienist  – How to care for your baby's teeth
June 28: Micaela Giuffre, Certified Infant and Child Sleep Consultant – Sleep Q&A
This program is sponsored by Whistler Community Services Society, Vancouver Coastal Health, and Whistler Public Library.