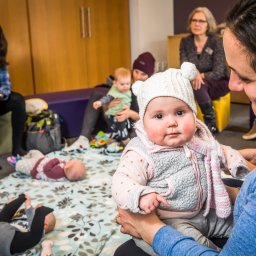 Parent Infant Drop-In
Parent-Infant Drop-In provides an opportunity to develop a supportive social network with other parents of young babies. Guest speakers will present parenting information on a variety of topics. This program is for parents with babies aged 0 to 12 months!
November speakers: 
November 1: Early Literacy and Library Programs with Adrienne
November 8: Evelyn Demontreuil, Vancouver Coastal Health Public Health Nurse – Emotional Refueling
November 15: Leann Kleckner, La Leche League Canada
November 22: Gabi Moeller, Infant Development, Sea to Sky Community Services
November 29: Social session
December speakers:
December 6: Cindy Wagner, Optometrist
December 13: Evelyn Demontreuil, Public Health Nurse & Leann Kleckner, La Leche League Canada
December 20: Social session – get to know other parents!
No Parent Infant Drop-In on December 27!
Email publicservices@whistlerlibrary.ca or call 604-935-8435 to receive reminders about this program!
This program is sponsored by Whistler Community Services Society, Vancouver Coastal Health, and Whistler Public Library.