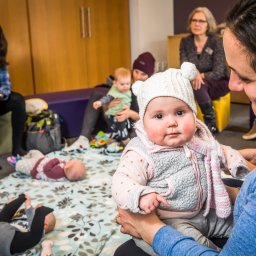 Parent Infant Drop-In
Parent-Infant Drop-In provides an opportunity to develop a supportive social network with other parents of young babies. Guest speakers will present parenting information on a variety of topics. This program is for parents with babies aged 0 to 12 months!
December speakers:
December 6: Cindy Wagner, Optometrist
December 13: Evelyn Demontreuil, Public Health Nurse & Leann Kleckner, La Leche League Canada
December 20: Social session – get to know other parents!
No Parent Infant Drop-In on December 27!
January speakers:
January 3: Sara Niblock, RMOW Recreation Programmer
January 10: Dana Elliott, Women's Health Physiotherapist – Pelvic Floor Health
January 17: Angela Ertel, RMOW Aquatics Programmer – Introducing Your Baby to the Pool & Water Safety
January 24: Randi Greer & Evelyn De Montreuil, Public Health Nurses – Sex After Baby
January 31: Let's talk screen time with Adrienne!
Email publicservices@whistlerlibrary.ca or call 604-935-8435 to receive reminders about this program!
This program is sponsored by Whistler Community Services Society, Vancouver Coastal Health, and Whistler Public Library.