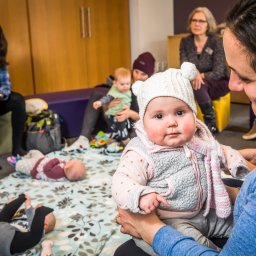 Parent Infant Drop-In
Parent-Infant Drop-In provides an opportunity to develop a supportive social network with other parents of young babies. Guest speakers will present parenting information on a variety of topics. This program is for parents with babies aged 0 to 12 months!
March speakers:
March 7: Alison Westwood, Public Health Dietician, VCH
March 14:  Yvonne Smith, Community Dental Hygienist, VCH
March 21: Social session – come out and meet other parents!
March 28: Randi Greer & Evelyn De Montreuil, Public Health Nurses
April speakers:
April 4: Learn new songs & rhymes with Adrienne
April 11: Rosalie Dowse, VCH Speech & Language Specialist
April 18: Eric Poulin, Pharmacist
April 25: Social session – get to know other parents!
Email publicservices@whistlerlibrary.ca or call 604-935-8435 to receive reminders about this program!
This program is sponsored by Whistler Community Services Society, Vancouver Coastal Health, and Whistler Public Library.